Piet meets Edwin, founder of Wildlife Friends Foundation Thailand
An interview of our ambassador Piet Hellemans with Edwin Wiek, founder of Wildlife Friends Foundation about maltreated or neglected wild animals, the sanctuary for sick and disabled animals and the rehabilitation and care for those who are unable to be returned to the wild.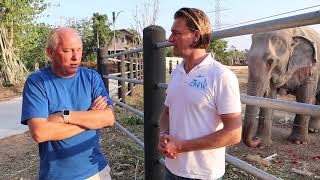 Last February Wings for Animals visited Wildlife Friends Foundation Thailand (WFFT).
In Thailand, like in every country in the world, animals are abused and exploited for profit and human gratification. There are many examples of animal exploitation within the tourist industry, for example, photo animals, animals performing in degrading shows, and elephant camps. There is still a thriving illegal trade in wild animals for pets and medicine.
The major goals of Wfft are:
• To rescue captive wild animals and rehabilitate them as far as is feasible, allowing them to live the rest of their lives in a safe environment, as close to nature as possible and providing them with the best care possible.
• To campaign against all forms of animal abuse and exploitation in Thailand, work towards ending the illegal pet trade and discourage people from keeping all wild animals as pets. WFFT actively seeks to combat the illegal wildlife trade and to rescue animals from poor conditions or exploitation from human entertainment.
• To provide veterinary assistance to any sick or injured animal; wild or domestic.
•To educate and encourage local people (especially children), tourists and the international community to appreciate, understand and protect wildlife and their natural habitats through our education program. One of the most significant aspects of wildlife conservation is the education of local communities and raising awareness among tourists, who often inadvertently create a big demand for the exploitation of wildlife. WFFT wishes to make people understand the consequences of their actions and aims to persuade them to change their habits and attitudes towards life (If the buying stops the killing will too). This is a long and arduous process and requires a holistic approach to education. Tours are given regularly to western tourists at the rescue center with the aim of raising awareness for the plight of the animals in promoting "responsible eco-tourism".
• To assist in and develop new projects involved in the protection, rehabilitation, humane captive environments, and welfare of all wild animals.
• To rehabilitate captive wild animals and release them back into the wild, repopulating forest areas in which they are already endangered or extinct.
Please support and donate, mentioning WFFT
Source: http://www.wfft.org